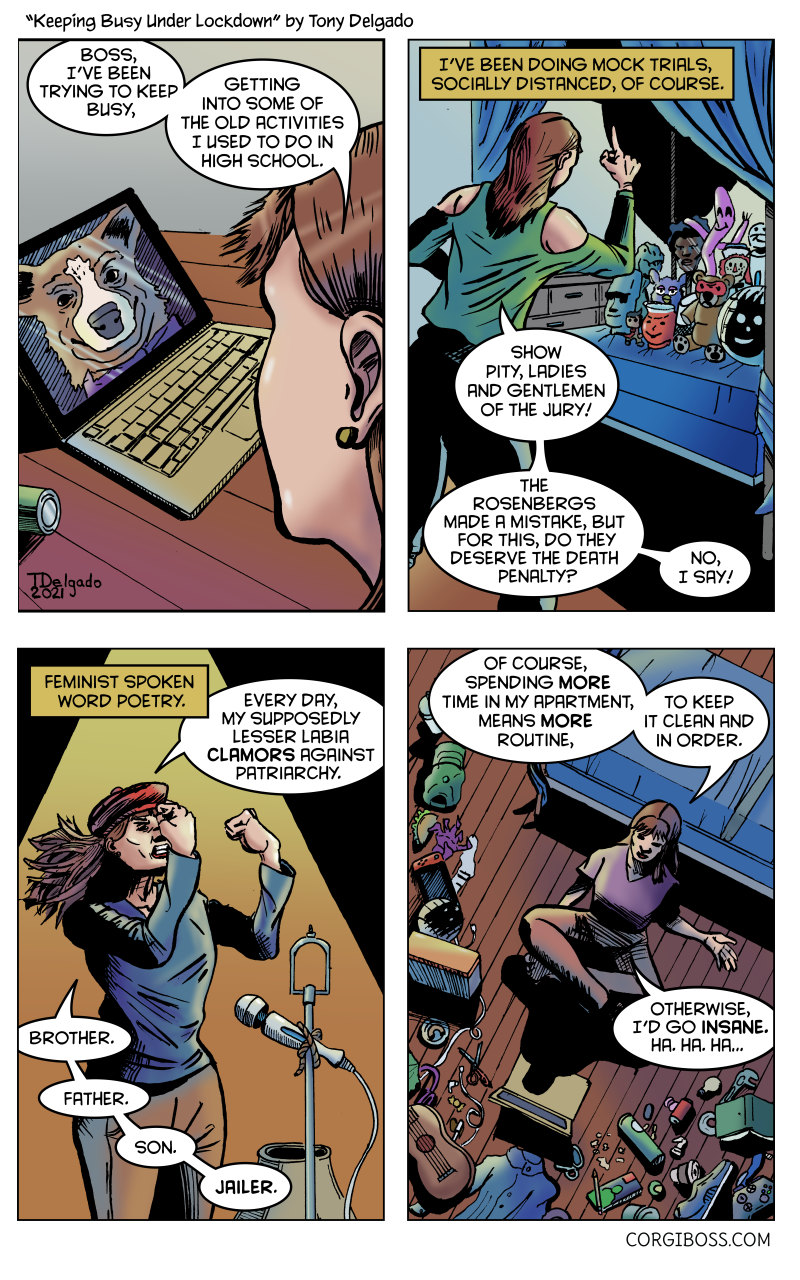 Opinion Page
Quarantine Tips: 50 Crafting Projects to Help You Craft Your Own Productivity Hell
Posted February 23, 2021 at 12:01 am
HOBARKEN (Corgi Press) — Mary's choices for hobbies are unique, and let's not even talk about what she's using for a microphone for her spoken-word poetry. Sanitize the microphone please!
In those early days of the pandemic, there were complaints in the news that lonely quarantinees were monopolizing active dry yeast and sourdough mix as they focused on new hobbies. Finally, it wasn't millennials that were disrupting the markets but instead everyone who was starting a hobby or buying a dog to avoid talking to their spouse/child/parole officer. Nonetheless, the profits of the bread ingredient, toilet paper, and hand sanitizer suppliers were about to go through a radical change. Maybe there was an idea among the type A's that we could just productivity ourselves out of the doldrums of being home all the time. Ugh. I mean type A people are the worst…. Wait! I'm kidding. I apologize for any offense! I know if you put me on your revenge list that you'll finish that list.
My experience with the early pandemic was that I got a dog. Although it was technically two weeks before the pandemic hit, so perhaps he's not really a pandemic puppy? The jury is still out on that one. However I did not get into bread-making. When I was home from work all the time, I thought to myself, "finally, I can focus on my comic!" That was my way of avoid talking to the people in my household. All has been good because I haven't spoken to my wife in a year at this point!
---
I hope you had fun spotting the members of the jury during Mary's mock trial. The full list of members is below.
First row: Easter Island head, Joe Flaco pop vinyl figure from an earlier comic, Kool-Aid Man, Google Home (the expensive one without video!),  a teddy bear with a domino mask, and Wilson the volleyball from Castaway.
Second Row: A dinosaur, Furby, Kiara's cardboard head on a stick, car dealership wavy guy, Raggedy Andy, and Mary's hitachi magic wand with a smiley drawn in sharpie.
Comments