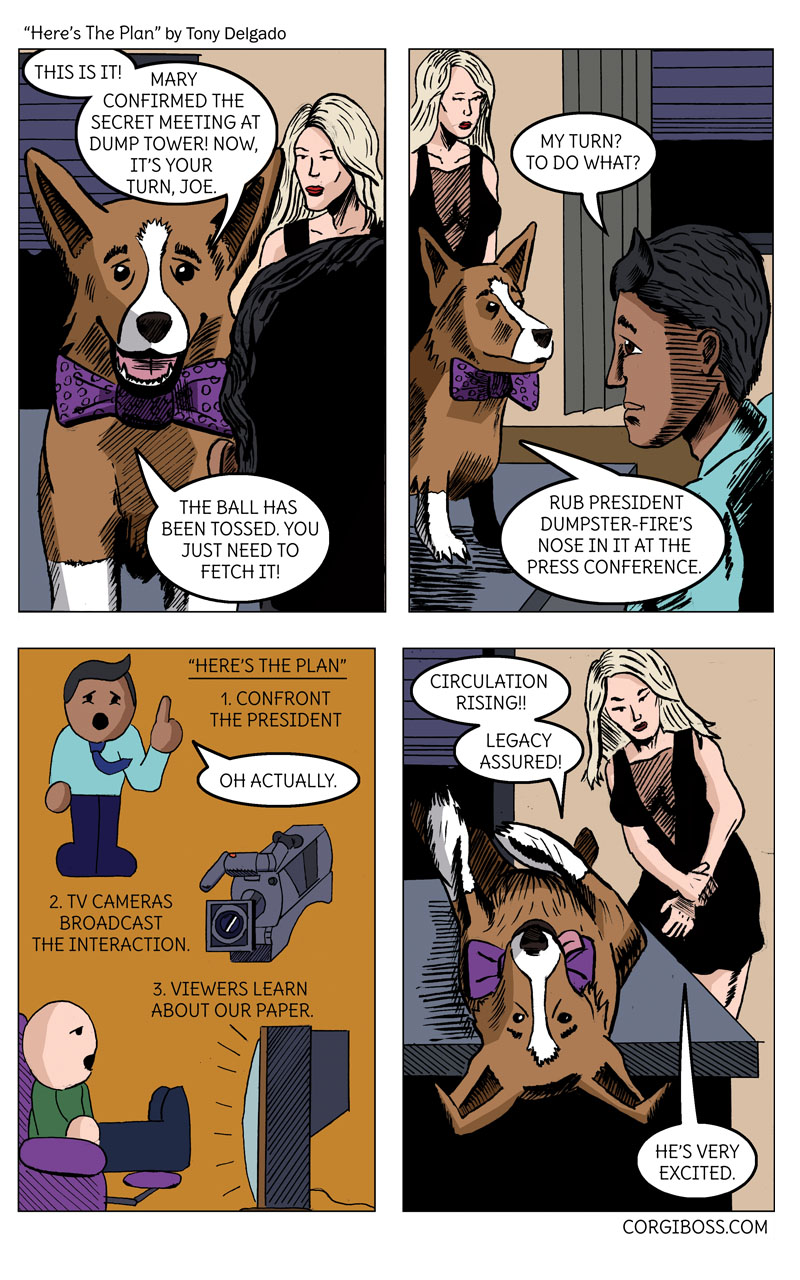 Opinion Page
Webcomic Tries to "Raise Awareness" of Itself
Posted September 21, 2017 at 12:01 am
Today, let me adopt the tone of a PBS pledge drive. As you may notice from the size of the comic archive here, Corgi Boss is a fairly new webcomic. Updating twice a week since June 6th, we've gotten to just over 30 updates on the website! Also, might I add that the comic hasn't missed an update since launch. Pretty good, right?
All this said, Corgi Boss needs your help! No, I'm not going to ask you for money in exchange for a rather plain looking tote bag. Instead, I'm going to just ask you to help promote Corgi Boss if you enjoy the comic. Yes, you. So, I expect you in the office bright and early Monday morning with a Box O' Joe for the marketing meeting. Just kidding! It's nothing that involved. Just, if you like the comic, click the vote button at the top of the site. If you are a member of any comic listing sites—such as Top Webcomics, The Webcomic List, Comic Rocket, or the Belfry Webcomics Index—please like, favorite, or subscribe to the comic on those sites. Finally, if you like a specific strip and you have social media accounts, please feel free to use the social media buttons on the left side to share the comic. Doing any of these things helps. I'm trying to get the word out.
Let's spread the word on the comic as if it is some of the worst communicable diseases we know. I'm enjoying working on the comic and I'd like to share it with as many people as possible. Also, I want to prove to my girlfriend that I actually have people that read this! Let's make Corgi Boss so popular that there is a Congressional hearing on it.
Comments