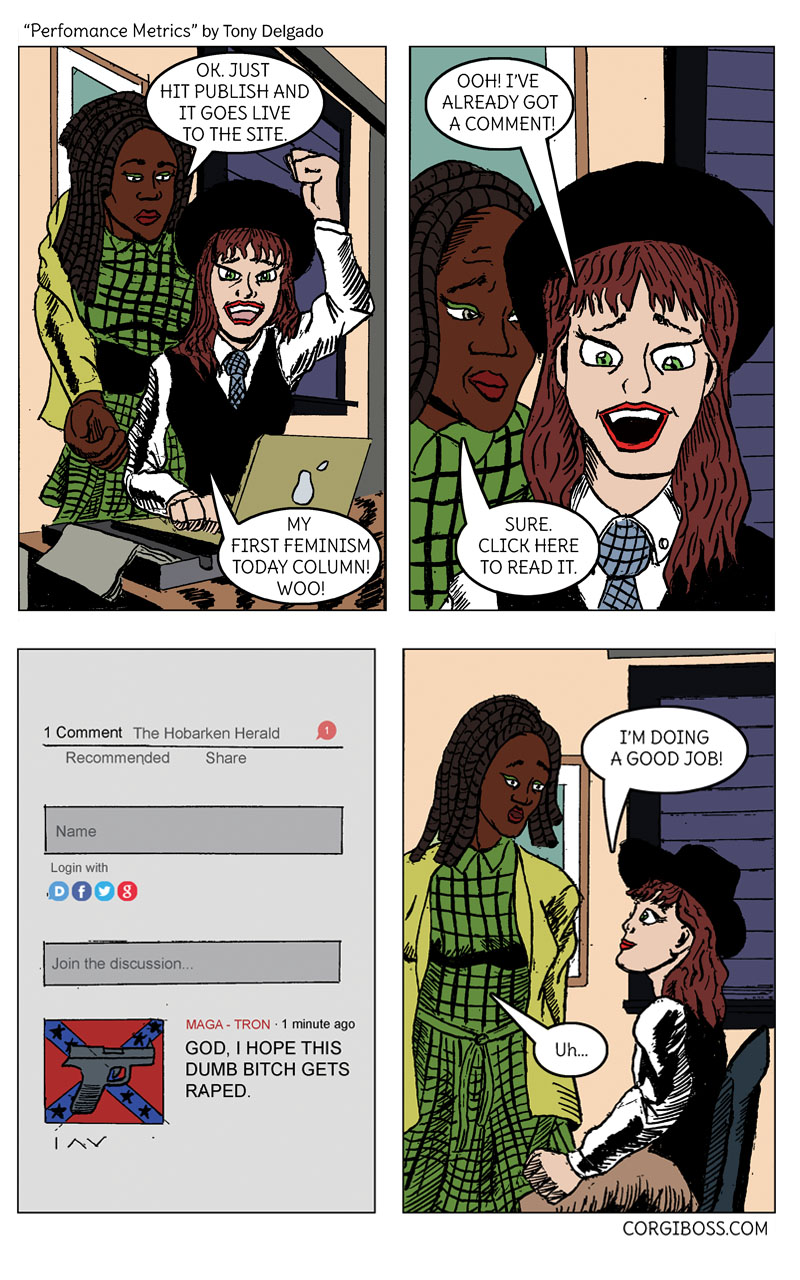 Opinion Page
That Old Question: Is Any Attention Good Attention?
Posted August 31, 2017 at 12:01 am
Wow. Mary is receiving some harsh commentary on her first blog post. I think many of us can relate to the experience. At first blush, the internet seems like this wonderful place for us to express ourselves, discover friends, and find out definitively "who wore it best." After you've seen "who wore it best" at the VMAs and figured out whatever happened to Danny from "Hey Dude," you might get the itch to participate in making something for other people to look at. So, you do. When you put some creative work out there, maybe a narrative with a thinly disguised version of yourself, you hope to get some comments. And you get one, but when you open it—abusive troll shit.
Mean-spirited and badly spelt, but flying at your head!
Dealing With Trolling
Mary's attitude seems to be to take it (strangely) in stride. This is in spite of the fact that she's being targeted by some pretty heinous troll shit. Mary's experience also seems to replicate one of the things we've learned over the past few years—that women and minorities are especially targeted for abuse on the internet (and since the start of last year's Presidential election, the web has been especially toxic). Perhaps Mary is right though in thinking that the trolling is evidence of how effective her writing is. It is threatening to the sticky entitled virgins in their parent's basement complaining about how someone made a movie they didn't like, or went outside fat. Perhaps, it is by the amount of gripes we receive that we can learn that we are earning attention. Must be right, since isn't that basically our relationship to our parents? What? No? Just me? OK.
However, maybe there is a better way? Here's a lesson I learned from retail. After I learned not to want to kill myself from such an awful job, I then learned that most people that like things don't say anything. They just take their shit and go enjoy it. It's the grumpy people that ask for the manager and try to return the underwear that they are currently wearing (long story). Let's change that. Next time you see something you like, find that contact button on the site and shoot them an email. Don't let the one comment on someone's article be the troll one.
The Start of Something New
Next week, look forward to the start of something a bit new in Corgi Boss. The webcomic will begin following a new format in which it is going through 3-month story arcs. What does that mean? Well, first of all, it's a great jumping on point for the comic. So, please tell all your friends to start reading right now. No really, stop what you're doing right now and tell someone. Yes, you. Put down the scalpel, you can finish that surgery later. Also, If you really want to be a number one fan, tell them to vote for Corgi Boss on top webcomics.
Second, you can look forward to all the great (or not so great) jokes that you had before except following the thread of a story. What's that story? Well, I don't want to give too much away, but let's just say that things heat up with President Dumpster-Fire a bit, and we introduce our second dog character? What! I know. See you on Tuesday!
Trivia: The boss once received a threatening letter over some of the paper's coverage. He's not sure if it was a death threat or not since the author threatened that unless the articles improved, he would "fix" the boss.
Comments
Breaking News