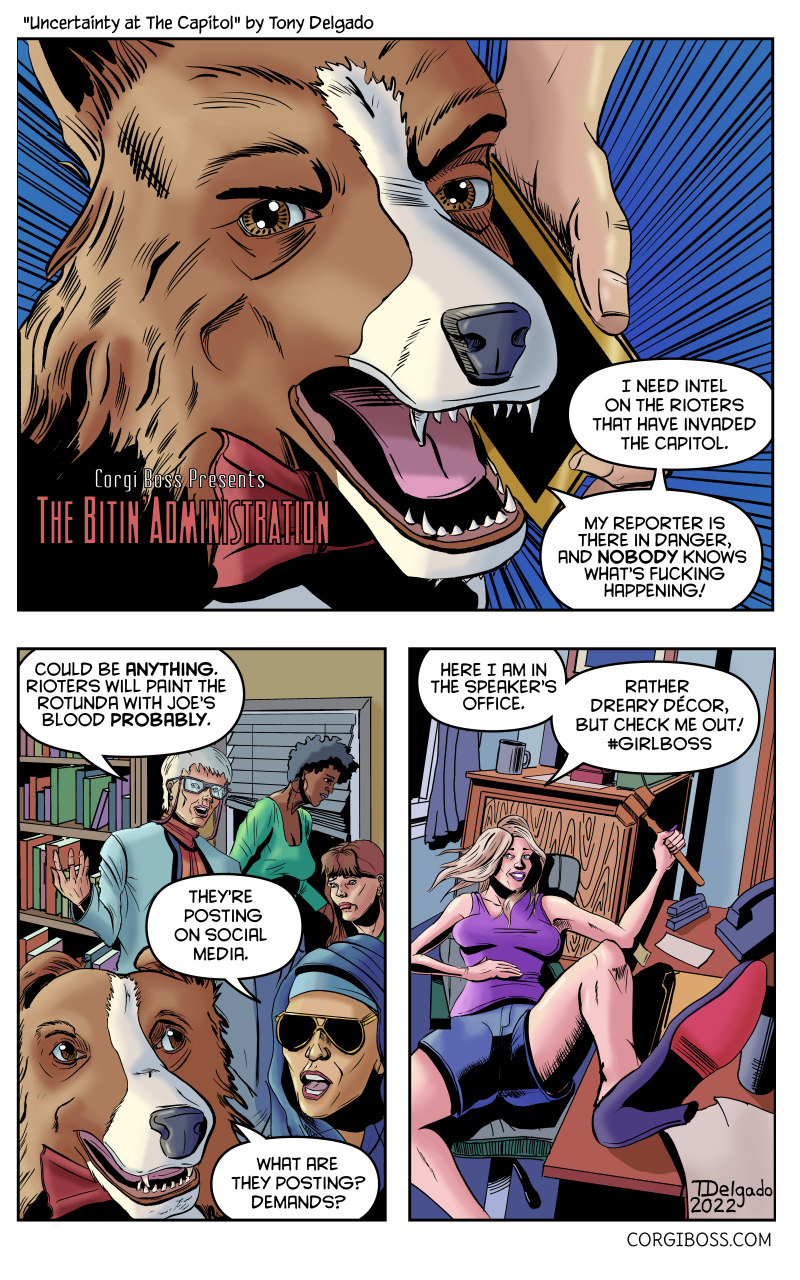 Opinion Page
What Hath I Wrought? Man Did Not Read the Size When Ordering 10-pack of Mayonnaise Online
Posted February 1, 2022 at 12:01 am
HOBARKEN (Corgi Press) — The new storyline kicks off here with chaos, and there are a lot of unresolved questions from the last arc: Will Joe Flaco die? Why is the boss becoming, each time I draw him, more of a fluffy corgi like the dog that I actually own? Why did Kimber dress like that when raiding The Capitol? I figure I'll answer at least one of these. Any guesses which one I really answer?


Before we go any further though, I want to point out how proud I am of myself at my growing adeptness in fitting nearly my entire cast into a single panel. When I first started this webcomic, I really agonized about how to fit a mere three characters together in a single panel. Now, look at panel two! We've got characters; we've got dialog. They all fit in there. I was so drunk with power I had stop to myself from including the entire Mormon Tabernacle Choir just because I thought I could fit them in.


That handled, let's talk about what to expect in this new arc. The big thing on the agenda is, of course, the fallout from the capitol riots. For many of the characters of Corgi Boss, the invasion of deplorable MATA hats added a new level of personal responsibility. While everyone has been a victim of national news events (like border detentions, being arrested as leakers, etc), this might be the first time they've felt they've had a role in contributing to the news. Mary was embedded with MATA hats, Kiara was focusing her attention on trashy gossip instead of reporting on important stories, and the boss perhaps did not check hard enough his wife's growing radicalization. Now, they have to think about what they do with this feeling of responsibility for what happened. They probably won't do what I do when I feel guilt about what I am responsible, which is fake my death and appear in a new town with moustache!

See you next week! 

Comments
Breaking News