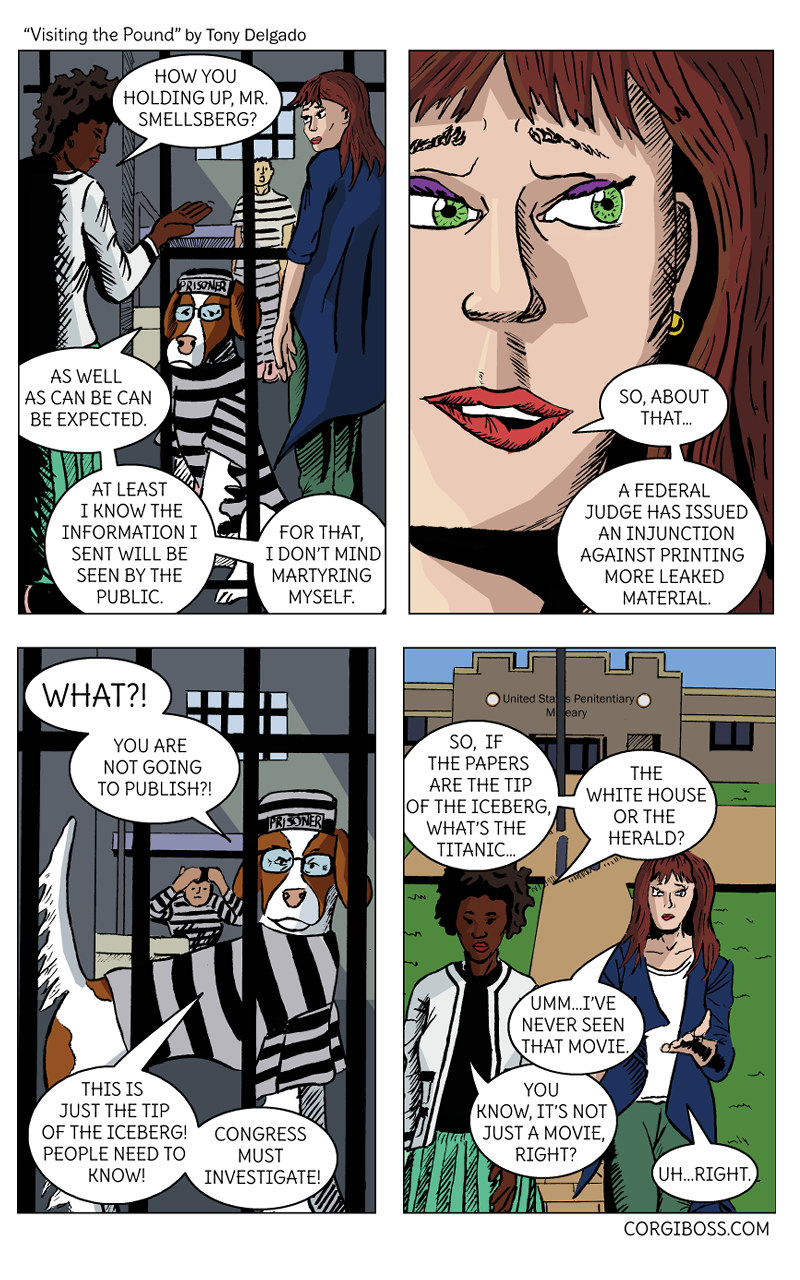 Opinion Page
All Access: Go Behind the Scenes, In Front of the Scenes, and Between the Scenes with Corgi Boss Tell-All
Posted October 26, 2017 at 12:01 am
I recently was listening to an interview with former intelligence analyst and convicted leaker Chelsea Manning. She recounted during the interview that following her arrest she was placed in a cage guarded by marines in Kuwait. She also had no access to anyone—no lawyers, no friends, nothing. It was quite the harrowing experience. So, considering everything, Smellsberg's treatment might be inaccurately kind. However, I decided that for the momentum of the storyline, I didn't want the leaker to be completely cut off from everyone. I know it's disappointing, but it was a fictional conceit that I thought necessary. Nevertheless, I feel obligated to be upfront about this in Corgi Boss because although the comic is fiction, I strive for realism in every aspect of the comic. It's a commitment that I take very seriously. How seriously you might wonder?
Before starting Corgi Boss, I spent a solid two years meeting with consultants that told me they had actually worked at newspapers run by talking dogs. This was not an easy task. They have very strict visitor hours and policies at psychiatric hospitals. I also spoke with a number of corgis about what it's like to work in journalism. This was much more difficult since virtually every corgi I met just stonewalled and licked my face. I had the feeling that these corgis had spread the word about me because once they (awkwardly) sniffed my crotch, they never said a single word to me.
Finally, I spoke with some flaming dumpsters. I asked them what they thought it would be like to be President of the United States. Unfortunately, there seems to be a conspiracy of silence around flaming dumpsters since our clandestine meeting behind Trader Joe's was observed. Soon after, I saw the flashing lights of the "authorities" and found myself being booked for "arson." I'm looking forward to my day in court, Trader Joe's.
Anyway, sorry this strip wasn't as realistic as you are used to. Keep reading and maybe together we'll beat this thing.
Trivia: Initially, the identity of the leaker was the second biggest mystery of Joe's life. The first one, of course, is why he cries himself to sleep every night.
Comments